ZIMMERMANN Freesmachine FZ5 -Fräsmaschine - Milling machine
Categorie: Modelmakerij machines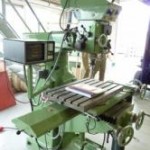 Diese Fräsmaschinen zeichnen sich besonders durch ihre stabile Bauweise und die grossen Arbeitsbereiche aus. Die Maschinen verfügen standardmässig über einen Rundtisch und können bis zur Zerspanung von Grauguss bzw. Stahl eingesetzt werden.

This type of milling machine especcially stand out by their sturdy construction and the wide operating ranges. Moreover their standard accessories include a circular tabnle and they can be used for cutting gray cast iron or steel.

Techn. Daten Technical Data
------------------------------------------------
Ausleger - Overhanging arm 200-700 mm
Fräshöhe - Milling height 470 mm.
Tischgrösse - Table dimensions 750x500 mm
Längsbew. - Longitudal movem 810 mm
Querbew. - Transverse movem 315 mm
Aufnahme - Worktool holder SK 40
Drehzahlen - Speed 56-4500rpm
Drehzahlstufen- Speed graduation 16

Price/Preis..........................€ 9.950,-- ab Lager/ex works






Zimmermann gebruikte freesmachine type FZ 5
Bouwjaar 1969, geheel gereviseerd.